We offer window cleaning services to both the commercial and residential sectors primarily in Portadown, Richhill/Hamiltonsbawn and Banbridge, and in the surrounding areas.
We offer the service of exterior window cleaning up to 35ft height (3rd floor) or interior window cleaning, or any combination of the two. We also offer maintainence cleaning of business signs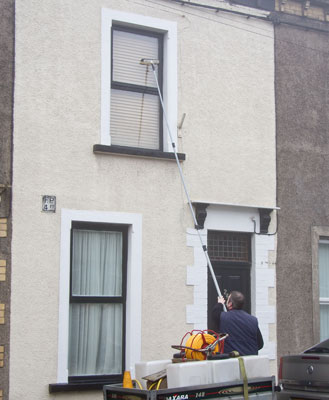 Our primary method of domestic window cleaning is the Water-Fed-Pole method. This involves using highly filtered, de-ionised water pumped through a soft brush to wash your windows and help keep the window frames clean too. The water then dries off the glass naturally to leave a streak-free finish.
Another reason why we use this method is that it affords our customers privacy, no more embarrasing moments when the window cleaner suddenly appears at an upstairs window!! Added to that is the fact that it is a much safer method to clean upstairs windows, and it complies with European Union regulations regarding safety at work.
We also offer the Traditional method of window cleaning, and this is our favoured method for cleaning shop windows. We find that this method is more suitable for working in busy public places without creating any potential tripping hazards from trailing hoses or slipping risks from excessive water running off the glass which could then freeze in winter.
All interior window cleaning is also carried out using traditional methods.
We also offer a Conservatory roof cleaning service. This can be either a Glass only arrangement, or can include both the glass and the framework (assuming it is uPVC).
All of the above services can be scheduled as often as you require.
Almost all of our residential customers are cleaned on a once-a-month basis, and our business customers fall mostly into monthly, fortnightly or weekly. But we are happy to clean your windows at a frequency that suits you, just let us know.