There are several ways of payment.
Some are in when I clean the windows and pay in cash or cheque, and now I can accept Credit and Debit cards with a mobile "Chip and Pin" machine.
Others leave payment in a pre-arranged "hiding" place.
I also call to collect, usually on a monday evening.
Another option that many choose is to pay online, this is done through Paypal.
For your peace of mind and for security reasons, all payment and credit card details will be handled by PayPal, your card details will not be disclosed to me, and none of your information will be stored on this website.
While PayPal will process your payment details,you do not need to have a PayPal account to do so, you will be able to pay with credit/debit cards without signing up for a PayPal account.
Please enter the address of the property cleaned into the box on the left, then click "Pay Now". You will then be taken to Paypal to enter the amount owed into the box and click "Continue".(see the circled areas in the picture below)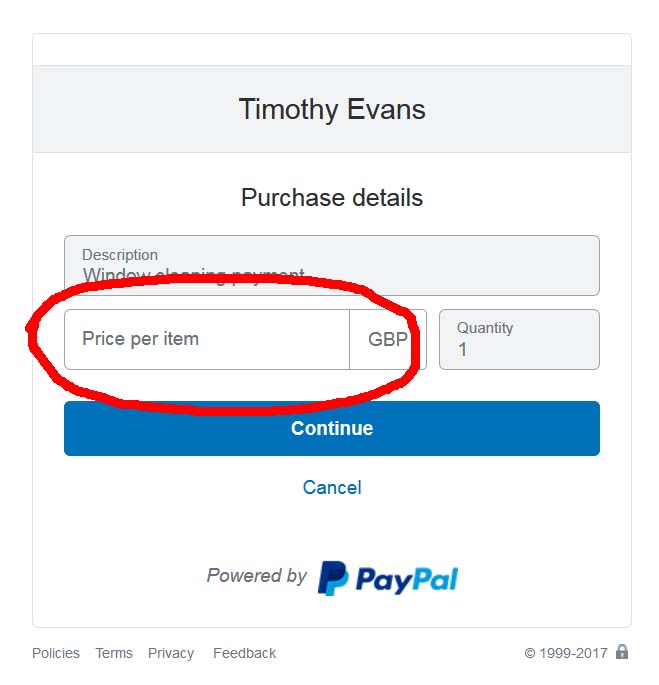 Please note that there is a standard charge of 50 pence for each paypal transaction, and this shows up as a postage charge. We do apologise for passing on this charge, but most feel that for less than the price of an envelope and a stamp, the convenience of paying online is worth it. However, if you would prefer not to pay the surcharge then you can still pay via a cheque in the post or arrange a hidden place to leave the payment when I clean your windows.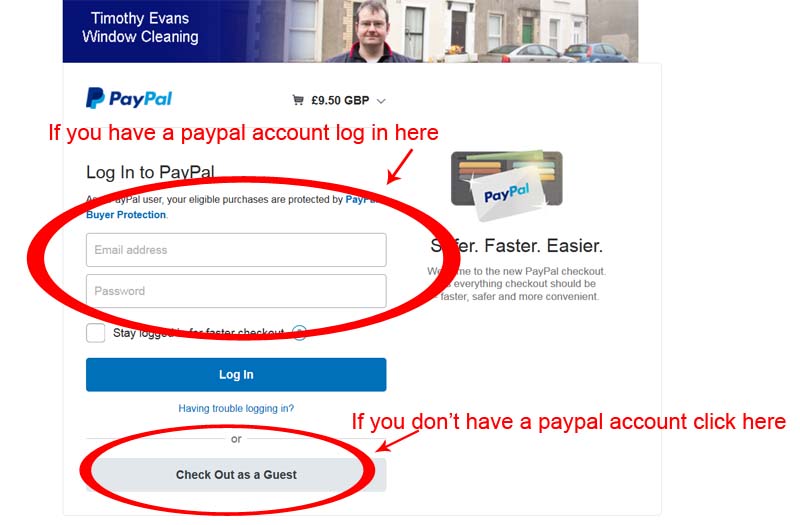 As with all online transactions, please be sure that, before entering any payment details, that the website address bar begins with "https", ie when paying me via PayPal the wibsite address bar should begin with "https://www.paypal.com/"
The "https://" indicates that you are connected by means of a secure, encrypted connection.